The computer your mother's best friend's neighbor gave you might be good for email, keeping up with social media and the occasional online shopping blitz but when it comes to gaming, it falls very, very short of expectations. Pre-built gaming computers are now readily available because of just that situation – a good basic hand-me-down computer that simply was not powerful enough for the latest video craze.
The word 'pre-built' is something of an oddity – sort of like the term 'pre-owned' in the car industry. The word conjures up images of LEGO sets and assembly-required furniture but when used in the context of gaming computers the term means powerful and highly suited to gamers. At one time, individuals would swap out components of an older computer to upgrade its capabilities. With a flood of older computers being traded in, a whole industry of ambitious computers techs has sprung up to wave their magic wand and transform these computer dinosaurs from junk to powerful and practical instruments complete with enhanced graphics, high processor speeds and none of the software applications that once filled their hard drives.
Please keep in mind that the pre-built gaming PC market is rather fluid. Options can change daily. To make this list, the choices needed to have updated software, a quality graphics card, high speed processor and adequate ports to easily connect to peripherals. Some trade offs had to be made but this list offers a range of choices all for under $200. Navigating the language can be interesting so before you buy, check out the 'Consider This' section at the end of the article.
1. Dell Optiplex 780 SFF 3.0 GHz DVDRW with Windows 10 (Certified Refurbished)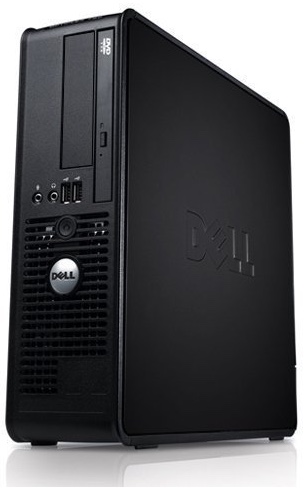 This mid-range choice offers 3.0 GHz of speed from an Intel Dual-Core processor and an operating system that has been upgraded to Windows 10. While it is missing such features as WiFi connectivity and display port, it still provides plenty of power in a simple package. The original 2 GB memory has been upgraded to 8GB for better graphics and the 750GB hard drive offers space for storing games on disk. Connect to any monitor or flat screen TV using one of the 8 USB ports (2.0). The tower also supports a serial and parallel port, audio jacks and VGA port. The DVDRW is fast enough to run high action games without that annoying drag. This product is certified refurbished and includes relevant accessories such as power cords and cables. It has been tested, cleaned and repackaged. Overall, this option offers all the basic needs of a beginning gamer at a most reasonable price. Monitor, keyboard and mouse are not included but the product is covered by a 30-day limited return policy.
2. Lenovo ThinkCentre M72e High Performance 3.3 GHz Small Form Computer with Windows 10 Professional (Certified Refurbished)
Lenovo may not have the name recognition of others, but it has proven itself to be a reliable computer manufacturer. This certified refurbished model has a 500 GB hard drive and has been upgraded to 8GB of memory. A 3.3 GHz Intel processor has been installed and Windows 10 Professional offers the most recent operating system available. Unlike other gaming PCs, a keyboard and mouse are included so the unit can double as a home computer. A monitor or video screen is not included. The 6 USB (3.0/2.0) ports offer connectivity and the DVDRW Optical Drive allows games to be played from disc. The tower includes microphone and headphone/speaker jacks as well as a serial and VGA port. While not WiFi enabled, it can access the internet through the Ethernet port. Add a WiFi adapter and going online becomes a breeze. Basic accessories such as power cord and cables are included. It has been tested, cleaned and repackage for sale. A minimum 90-day warranty comes with the purchase.
3. Dell Optiplex 980 Computer 3.2GHz with Windows 10 Pro (Certified Refurbished)

Just because this computer comes with a keyboard and mouse does not mean it cannot do double duty as an efficient gami
ng computer. The 3.2 Intel i5-650 processor and integrated graphics mean smooth video play for movies as well as games. The 8 USB ports support any plug and play input device such as a PC game console or joystick. The DVD is capable of playing videos and games off disc and the 500 GB SATA hard drive has room for dozens of games to be saved for ready access. A monitor or video screen is needed before play can begin. A microphone and speaker/headphone jack is located on the front. While it is not WiFi ready, its lack of internet access can be a security measure for parents with children who could otherwise have access to websites that are intended for older audiences. The installation of Windows 10 Pro and a 90-day limited warranty on the product make this a good computer for general computer work as well as hours of gaming pleasure
4. Dell OptiPlex 2.9GHz Processor, 4GB Memory, 160GB Hard Drive, DVD, Windows 10, WiFi (Certified Refurbished)
Priced at less than $100 when this was written, this kind of basic unit can satisfy t
he occasional gamer or provide the foundation for a well accessorized Cloud based gaming system. Rather than spend money on memory, use the savings to purchase a subscription to an online video gaming service. The slightly slower processor (2.9 GHz) and lower memory will be sufficient for successful online play. The 10 USB slots offer room to connect multiple input devices including a high definition video display. Audio jacks on the front and back can connect to stereo speakers or personal gaming headphones. When going offline, the DVD player and 160 GB hard drive give access to stored formats and games on disc. The unit which has been refurbished and certified functional comes with cords and cables needed for typical use. A 90-day limited warranty is also part of the package. A WiFi adapter is used in combination with the Ethernet port to provide access to the internet (Internet service not included). This model comes as a stand alone unit and does not include any kind of input or display device. It would work well as a replacement or upgrade unit in a well designed gaming niche.
5. HP 8300 Elite Small Form Computer, 3.2GHz, DVD with Windows 10 Pro 64-Bit, USB 3.0, and Display Port (Certified Refurbished)
With installed Ethernet capabilities, this unit can start out as a stand alone gaming computer then transition to a WiFi ready one with just the addition of a WiFi adapter. The fast Intel i5 3.2 GHz processor and DVD Optical Drive provide speed for games on disc and the 500 GB SATA hard drive has room for dozens of old and new video formats. The 10 USB ports (3.0/2.0) offer options for using the included keyboard and mouse and the display port offers many options for connecting to a monitor or video display (not included). Microphone and headphone jacks are easily reached on the front as are the four front facing USB ports which allow a gamer to add a keyboard, joystick or console with one clean movement. This certified refurbished product has been cleaned, tested and repackaged with necessary cords and cables included for typical use. Its Windows 10 Pro operating system is one of the most up-to-date versions. A 90-day limited warranty comes with the unit for buyer confidence.
6. HP Elite 3.0 GHz Processor with Windows 10 Home, WiFi, and 17-inch Monitor (brands may vary) (Certified Refurbished)
A choice that trades memory and storage for WiFi capabilities and a mo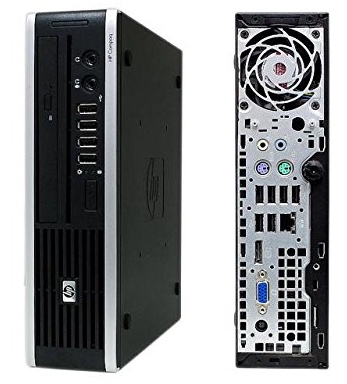 nitor, this HP Elite comes with everything you need in one box at a very reasonable price. Refurbished and certified functional, the tested unit includes 3.0 GHz processor, 4GB RAM, 160 GB of hard drive space and a DVDRW for general gaming function. In addition, it comes with a 17-inch monitor (brand unknown), a WiFi adapter along with a keyboard and mouse. Start with the games that come as part of the Windows 10 Home operating system then download others or use the DVD to access rental games. A total of 10 USB ports (4 on front, 6 on back) allow the addition of a musical keyboard, flight simulator or PC gaming console. Microphone and headphone jacks are also located on the front to allow gaming while others watch TV. The only downside that seems to be a part of this model is a lack of storage space for downloaded games and videos. Even so, its WiFi access opens up countless online games. With its ability to also act as a home computer system, it is a great choice for anyone on a budget.
7. 2017 Acer Aspire XC Compact High Performance Computer (Intel Dual-Core Processor up to 2.16GHz, 4GB RAM, 500GB HDD, DVD, HDMI, Windows 10 Home) (Certified Refurbished)
Nearly the same as a new computer, this 2017 Acer Aspire has been upgraded fo
r the gaming market. Its Intel Celeron processor offers 2.16 GHz of speed and the Windows 10 Home operating system provides the latest OS for the general user. Hard drive space of 500 GB provides ample room for storing downloaded games. The 4 GB RAM is more than enough for general gaming that is enhanced by the integrated Intel High Definition graphics. The included 8x DVD drive is available for games on disc or to watch a favorite movie. Other features include an SD card reader, Ethernet port, 3 audio ports and a headphone and microphone jack. The 2 HDMI ports can be connected to most large screen video displays or home theater unit. A total of 5 USB (3.0/2.0) ports allow the addition of specialized gaming peripherals such as joystick or console. A USB keyboard and optical mouse are included in the package but a video display or monitor is not included. WiFi can be setup using a WiFi adapter in combination with the wired Ethernet port. As a refurbished and certified product, this model has been tested and includes all cords and cables needed for typical use A 90-day limited warranty is also part of the package.
Things to consider
Return Policy
ALWAYS look for a vendor who accepts returns. Components of these customized computers may not be tested for more than a few minutes before being sold. Not all technicians are certified and some pass along housings and parts that may have been part of insurance claims such as water damage or electrical issues. A vendor who refuses to accept returns should be seen as a red flag.
A Computer by any other Name . . .
Pre-built and refurbished computers all have standard components regardless of how they are marketed. A computer listed as a desktop version may have exactly the same capabilities as one listed as a gaming computer. Instead of looking at the name, look for a large hard drive, fast processor, integrated graphics and DVD Optical Drive.
Size and Weight
Unlike the latest technology in laptops and tablets, these gaming style computers are larger and heavier than any kind of laptop. They may weigh as much as 16 pounds and be up to 4 inches thick. Even those classified as mini-towers can still weight 10 or more pounds. As such one should not consider them portable.
Expandability
In keeping with the idea of pre-built gaming computers, nearly all of these examples are expandable in one way or the other. As video trends change, you may find it necessary to change out the CPU (central processing unit) or add an additional hard drive. Rather than ditch the one you have consider going to a local computer tech and having the work done by a local business.
So one last word of advice before you start shopping. Unlike the original gaming console, PC gaming computers are capable of multitasking. From storing thousands of photos to tracking budgets to playing hours of Grand Theft Auto or Minecraft, remember PC gaming computers and PC desktop computers are just two faces of the same product. With the right choice, you can have the best of both in one package.